About Stride Shoes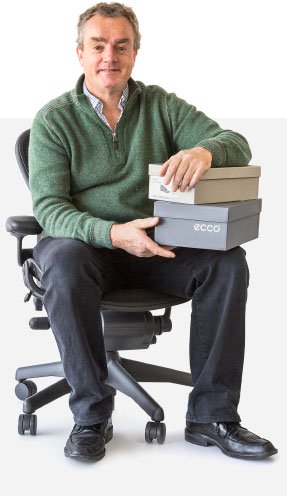 Simon Chadwick has owned www.strideshoes.com.au for twenty years. Previously a Bank Manager and Farm Advisor, he has been married for 31 years to Jo-Anne and has three children Amelia, Verity and Joshua.
He studied at Curtin University and holds two degrees, Bachelor of Business (Agriculture) and Bachelor of Commerce (Property).
The Chadwick family have travelled extensively throughout Asia and Europe as a family. Their kind of holiday is more adventurous than organised with backpacks being the essential item, they are ideal for wasting less time at busy airports.
Golf is Simon's untamed passion when time permits.
To me, retail is an important part of my journey through life. My passion is about building a business that has longevity. In this case, it happens to be in shoes.
In any business, you need to listen to what the customers are saying. Not just the customers who scream the loudest, but loyal customers whose actions speak louder than words.
At www.strideshoes.com.au, we are not into fads. We are into providing solutions to our customers' needs.
Twenty years ago, when I first bought a single store, the customers' needs were completely different and in some ways the same.
I believe that our customers still crave the old fashion service but demand more. They want value when buying, rather than inferior products at cheap prices.
Our customers still want the convenience of real stores where they can select their next pair of shoes. However, they want to do their research online before making that purchasing decision. They want choice in buying online or in-store. They want to deal with someone who is passionate about the shoes they sell. They want the security of dealing with real people who understand they want the customer for life, not just the one sale. Furthermore, they want value when they buy.

www.strideshoes.com.au is on a journey to achieve these goals. We are faced with the challenges of high rents and relatively high wages compared to many foreign countries. We also understand that the cost of living in Australia is not cheap. We are seeking to find a balance between providing our customers' convenience and value.
Our 10% off multiple pairs is our start of this journey in finding a balance between convenience and value for our customers. We can afford the rent and wages with the first pair and pass on the savings to the customers with the second pair.
As we find savings in sourcing great brands at lower prices and reducing the average cost for each shoe sold, we will endeavour to pass the savings on to our loyal customers.
www.strideshoes.com.au has moved to the Neto solutions platform, providing seamless integration between our physical stores and the online platform. Naturally, there will always be teething problems, but we will always endeavour to put our customers first.