Top 10 Tips for a Good Shoe Fit so that You Stride with Confidence!
As the saying goes, good shoes take you to the right places. This saying can apply to all people, as getting "good" shoes provides you with ease and comfort that will help you conquer your day. However, some people have the misconception that good shoes only cover the scope of footwear that looks good but does not necessarily provide the comfort that one requires. More often than not, ease and reliability take priority over of style.
This sacrifice usually entails an ill-fitting shoe that will have you groaning and regretting your choice with every step you take in them. A shoe that does not fit you well will hinder or prevent you from fully immersing or enjoying your day-to-day activities.
Low-quality shoes that do not conform to your foot shape and size well can even cause ailments and injuries! You may find yourself suffering from calluses, blisters, corns, or reduce circulation to your foot. If your feet are not aligned properly, it causes a butterfly effect of ailments that will surely become a problem if you ignore it. They can lead to knee pain, back pain, and even hip pain.
From loose-fitting, too-tight, and thin-soled shoes; There are tons of things that you should look out for when you are on the hunt for your daily footwear. What if we tell you that there is a way that you can find both functional comforts with style from a shoe?
There is a way for you to avoid any pain and discomfort while sporting the most stylish shoes! All you have to do is take your time and thoroughly check your choice before you make your purchase.
We have compiled the top ten tips that will help you find the best shoe fit. Read on to know what you should do the next time you buy shoes!
Tip 1 - Measure your feet before buying.
While you can go to a shop and try on various shoe sizes, it will save you a lot of time if you will come prepared! One way you can do this is to measure your feet at home before you buy online or head to a store.
We recommend that you do this step after a full day of walking. Walking has the tendency to increase the size of your feet. If you are looking for footwear that will be your go-to for the whole day, you wouldn't want one that will feel too tight by the end of the day!
Apart from this, you should also measure your feet wearing the kind of stockings or socks that you will most likely use.
Here is how you should measure your feet to find out the best shoe size for your feet:
First, you should step on a piece of paper and trace the outline of your foot.
Second, measure the length of your foot from your longest toe to the back of your heel. Take note of this measurement.
Third, it is now time to measure the length of the foot across its broadest part, which is usually across the ball of the foot. Again, take note of this measurement.
Fourth and last, compare the length and width of your foot to one in shoe size charts. Your shoe size is the one closest to the measurements you have taken note of.
Tip 2 - What to do when one foot's measurement is larger than the other?
Here's the thing about the human body: No one part is exactly and equally the same as its other half. If you measure your feet and find that one foot is notoriously larger than the other, there is no need to panic!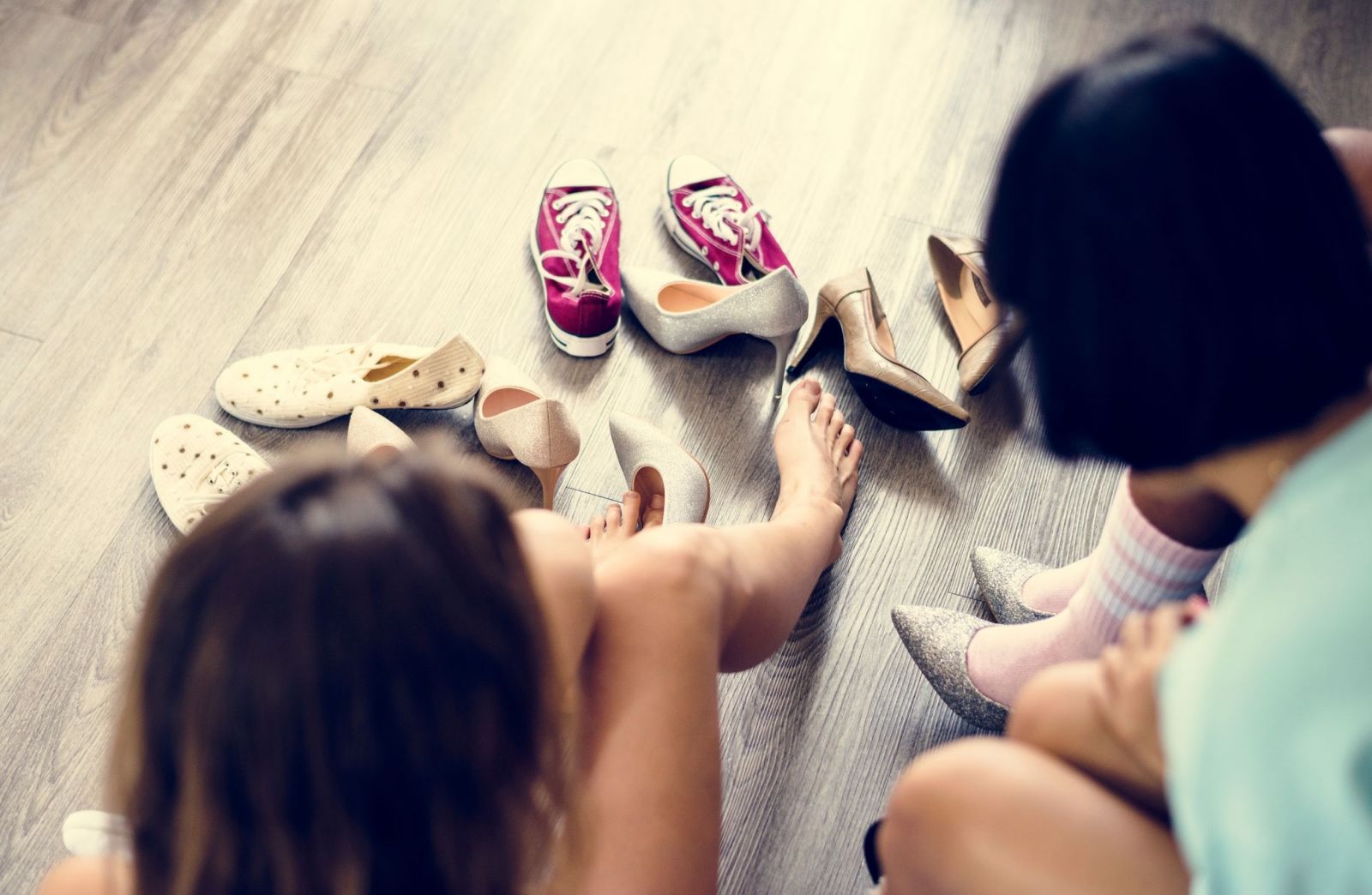 The rule of thumb here is to get the shoe size that adheres to the larger foot. A small difference between the left and right feet will not be that noticeable nor uncomfortable. If ever it gets too annoying to bear, you can always insert insoles to help fit the smaller foot size better. After all, it is better to fill a slightly large shoe to adjust because you can't make a smaller shoe size fit a bigger-sized foot.
Tip 3 - Do not always trust the label.
It is common knowledge that sizing varies from country to country. A size 7 of a shoe manufactured in America may not be the same size as that of one made in Asia. While the manufacturing label may give you a ballpark size chart, it is still essential to check the actual measurements of the shoe and to try it on your feet.
Tip 4 - Mind the shape.
Every person's feet are different. There is no one size fits all kind of shoe, and this is even more true for those that have some ailments in their foot shape.
Make sure that your choice in footwear is one that adheres to the shape of your foot. Otherwise, it may keep rubbing or giving you discomfort as you walk in them throughout the day. Just because the shoes have your size, it doesn't mean that it will be perfect for its shape, so that is one thing that you should look out for in your shoe fit as well!
Tip 5 - Mind the toe as well!
One common complaint brought about by ill-fitting shoes is that people groan about the shoes pinching their toes. You may be buying shoes that are too snug, and that will bring you more pain if you go along with that choice.
Be sure to walk around and check by wiggling your toes inside the shoe if correctly fitted. You should check you have too much or not enough space for your toes in them. Tight toes are one of the culprits of foot pain, so it is best to take good note of this one!
Tip 6 - Mind the balls of your feet.
If your toes need a little extra care and attention, so do the balls of your feet! The broadest part of your forefoot should fit comfortably in your shoes. Ultimately avoiding hours of discomfort and help you walk around with ease the whole day.
Tip 7 - Don't buy tight shoes.
This tip that is pretty much a given, but we feel that it deserves a spot here because this is still a common mistake that many always make.
Buying shoes that are too tight seems to be rationalised by some people, saying that they will stretch out with consistent use. We are here to tell you that you shouldn't count on that, lest you want to waste money on ill-fitting shoes or grit through the discomfort of walking in them.
The proper fit is always the best. It should feel like your shoes are being hugged, not smothered. You should avoid ones that pinch or hurt, especially at the toes. If you have to wiggle and force your foot into the shoe, that is already a bad sign. We recommend that you size up, or opt for orthotic shoes.
Tip 8 - Mind the heel!
A common complaint is that the heel of a shoe tends to bruise or rip the skin off. Thus, it calls for having to plaster on the back of one's heel, or else the wound might get worse.
While this is a common occurrence, and putting a plaster on the back of one's heel is common practice, it is a sign that you are using the wrong shoes. Just because there is a way to get around it, it does not mean that you have to grit your teeth and hope that it will fit better along the way!
Another problem with the heel of the shoes is that they tend to slip if they are too loose. If you are trying on shoes, walk around for a minute or so. Take note if they start to move on your feet. If they slip, try another size down or opt to get insoles that will help with the fit.
Tip 9 - Break them in!
Surely, there will be some stiffness that comes with new shoes. These are perfectly normal, provided that they aren't too stiff. The first time you get your shoes, you shouldn't put them through regular use just yet. Wear them out on errands or such just to break them in first!
Walk around the store, and on different types of surfaces. Doing this will make sure that they are comfortable enough once you use them for your daily activities, and will help you ensure that the sizing is just right. See if they are suitable, fit just right, and do not chafe or rub anywhere. Your shoes should also not slide off or slip while you are walking in them.
Tip 10 - Consider the materials used.
Proper shoe construction is the key to making your shoes last for a long time. Some things you should look out for is a well-cushioned heel, a firm sole that doesn't easily bend and twist. You should choose one that has a comfortable, breathable material that will be easy to use throughout the day.
Stride Shoes features the most extensive selection of footwear that features both function and form. We have everything that will meet your needs and are orthotics friendly! Check out our site and find the right fit for you.
---
---
---
Leave a comment